FOR MY FULL TRAVEL GUIDE TO THE NORTH ISLAND CLICK HERE
Just two and a half hours drive south east of Auckland lies the Coromandel Peninsula, one of the most beautiful beach destinations on the North Island of New Zealand. This picturesque area has incredible ocean views and dramatic cliffs on one side and rolling hills on the other with the feel of a California surf town. Hidden down a quiet street, alongside the historic Shakespeare Scenic Reserve and estuary is the boutique, luxury accommodation 970 Lonely Bay Lodge.
After many days and hours of doing research on the Whitianga area, it was clear that 970 Lonely Bay Lodge was the epitome of peaceful, beachside relaxation that I wanted to start off our New Zealand vacation. We only had one night, so I wanted to make it count and it couldn't have been a more perfect match.
From the moment we pulled up to the lodge, it became obvious that we were in for a special experience. Kym, the property manager, greeted us at the door with a warm smile welcomed us into the incredible property. To this day, it's one of the most beautiful accommodations I've ever been in - exquisite in every way and in every detail. The lodge is comprised of three, one bedroom suites and a fourth two bedroom honeymoon suite. The downstairs living area has floor to ceiling windows that absorb light from every angle, and provide incredible views of the lush backyard looking out toward the estuary and beachfront. There, you'll find a dining room, kitchen, library/sitting room, and an open television room and sitting area with numerous fireplaces. The sitting area windows glide open completely and the ceiling remotely retracts to allow for optimal exterior views - the ideal place to watch the sunset with a glass of wine and a plate of cheese and crackers. In addition, the lodge also has its own elevator to accommodate those with accessibility needs or anyone who simply doesn't want to lug all of their luggage up the stairs like my dear husband. Decorated in sophisticated elegance, no details were forgotten when it came to ensuring that guests had every luxury needed for an unforgettable stay.
The backyard is immaculately kept, with a luscious garden, private outdoor bathtub, wrap around deck and direct access to paths leading to the beach and to easy hikes to some of the area's best viewpoints. In the spring, the magnolia trees are in full bloom, covering the ground with their soft, pink leaves, complimenting the interior decor perfectly. The beach is a direct shot from the patio, less than a five minute stroll over a whimsical bridge to the long sandy oceanfront; so secluded in the winter it feels like it is waiting just for you. The Shakespeare Reserve is also directly in front of the lodge, a unique spot for bird watching and enjoying some of New Zealand's natural bush.
Since we were traveling in August, which is late winter/early spring in New Zealand, we were the only guests (lucky us!) and were led up to the Estuary Terrace Honeymoon Suite, which is an expansive two bedroom suite with a covered outdoor dining/entertaining lounge with a gas fireplace facing the ocean and overlooking the estuary. The second small bedroom is up a small set of stairs and has its own patio, perfect for a family with older children or two couples traveling together. The main bedroom has its own door that closes off from the other bedroom, so while the two rooms share a bathroom and large walk in closet, the suite is completely private. In addition, the honeymoon suite has a separate entrance, with stairs on the side of the house leading up to the outdoor lounge. The lounge is perfectly situated with a large dining table for entertaining friends or enjoying a quiet dinner by the fire while listening to waves crash in the distance.
The main bedroom itself is incredible, with the best view in the house, plush king sized bed, electric fireplace and complimentary mini-bar, fully stocked with water, sodas, wine and organic snacks. The bathroom has a gorgeous claw footed bathtub with premium amenities to fully indulge in complete relaxation. Each and every subtle detail of the room, from the white washed shutters to the toilet light (Colin's favorite detail), remind you that you're experiencing the best that New Zealand has to offer.
In the morning, Kym prepares a breakfast feast that smells so good it literally grabbed us out of bed. Amongst the tea and coffee, yogurt, granola (muesli) and fresh fruit, she also makes guests a hot breakfast to order - we both had eggs and bacon over toast. As if it wasn't already the best way to wake up in the morning, what I will remember most are the delectable, light and fluffy croissants and pain au chocolate pastries that appeared fresh from the oven. They are imported directly from France and are sumptuous, buttery clouds that melt in your mouth with every bite.
I have to say that this will always be one of my most memorable, enjoyable and most beautiful stays we've had in the world. In addition to the extraordinary view and superb elegance of the lodge, we loved the time we were able to spend with the property manager, Kym. She is one of the most lovely people I've met - kind, accommodating, generous and omits a sense of peacefulness that few embody. I continue to believe that accommodations are only as good as the people behind it, no matter how beautiful it may be, and this is why 970 Lonely Bay has it all. When you visit, be sure to take some time getting to know Kym; she is truly the gem that makes this place shine so bright.
My perfect Day at 970 Lonely Bay
Unfortunately, we had a few short days in the Whitianga area, so I've put together how I would suggest spending the perfect 24 hours while staying at the lodge. Let me first say that you should stay at least 2 nights, if not 3-5 to enjoy it fully; however, I know that's not always possible so here's how I would do it, knowing what I know now and experiencing it first hand. It's also important to note that this is based on having a car, which I highly suggest, as it's the best way to experience all of the areas of New Zealand without restriction.
Arrive Early: If driving from Auckland, give yourself about 3-3.5 hours to get there to allow for photo stops and a quick breakfast. We stumbled upon Pukeko's Nest Cafe, which was great quick break for a yummy hot breakfast and a fresh display of gluten free pastries. There are plenty of other cafes along the road leading into Whitianga, more than you would expect, so don't feel pressured to eat at the first one you see in fear that there won't be any more along the way.
Check In: Call ahead of time, letting Kym know you are on your way. Even if you can't check in quite yet, drop your bags and quickly freshen up before exploring the area.
Cathedral Cove: Take the 20 minute drive from the lodge to the first and best introduction to Whitianga. Cathedral Cove offers an unbeatable ocean view, striking cliffs, white sand beach and easy to moderate walking paths/hikes for a picture perfect afternoon. If you haven't had lunch, I'd suggest grabbing some food from a local cafe or grocery store and bringing it along to have on the beach or lay out a blanket and sit on the grass near the lookout. There is a free parking lot at the top of the hill directly in front of the stairs that lead you down to the walking paths with clear explanations of where to go, effort level and length of time. I'm scared of heights and prefer easy to moderate hikes, so we took the Stingray Bay route, which took about 20 minutes each way. This doesn't take you all the way to Cathedral Cove, which takes 45 minutes one way, but is a quick and easy alternative with great views of the cliff. If you have the time and energy level for a longer, more difficult walk/hike, I've heard Cathedral Cove is absolutely worth it.
Hot Water Beach: Making your way back toward the lodge, take a turn toward Hot Water Beach. This is the famous spot where you can dig a hole in the beach sand and create your own natural hot water pool from the hot spring just below the surface. This can only be done a few hours before and a few hours after high tide, so be sure to check times before heading that way and bring something to dig with to make it easier (you can rent them from the local shops near the beach). It was a cold day, so we weren't ready to get in the water, but we got to enjoy the view anyway.
Afternoon Tea and Bubble Bath: By this point, you're probably ready for some rest and relaxation. Head back to the lodge and enjoy your beautiful suite. Run a bath, make some tea and open the windows to let the sea breeze in.
Watch the Sunset from the Outdoor Lounge or Downstairs Sitting Room: Savor the incredible view as you sink into one of the plush seating areas throughout the house with a blanket near the fire as the afternoon sky turns to a fiery red and the sun slowly tucks behind the lodge.
Order Take Out from Go Vino: The best way to relax is to stay in the lodge as much as possible, so instead of spending hours out at dinner, pick up some food from Go Vino - one of the local favorites. Despite the strip mall exterior, it's actually a fine dining restaurant with an extensive wine list and delectable and flavorful dishes. For lodge guests, they perfectly plate everything for you to take back with you to enjoy as if you were eating at the restaurant. Highlights for us included the mushroom risotto cakes, charred polenta dish, and for dessert, the dark chocolate marquise.
Star Gaze from the Outdoor Bath: After dinner, pour an extra glass of wine, put on a robe and slippers and head to the backyard with a few candles. Fill up the bath and gaze at the never-ending stars from your very own outdoor bathtub. Don't worry, it is completely closed off and locks from the inside so you don't have any new friends joining you unexpectedly!
Early Morning Hike to Shakespeare Cliff to Watch the Sunrise: If you're up for an adventure with an incredible view, wake up early and take the path from the backyard to the nearby Shakespeare Cliff outlook to watch the sun come up over Whitianga. Oooor, you can do what I did and sleep in instead. I took the below picture from the balcony outside our room.
Breakfast at the Lodge: Indulge in Kym's scrumptious breakfast spread outside on your patio or in the dining room and be sure to have some of those heavenly French pastries fresh from the oven!
Paddle board from the Estuary to Cook's Beach: If you're not too full, take out the lodge's paddleboard onto the stream that flows just a few yards from the backyard and paddle out to Cook's Beach. Walk along the sand towards the reserve and explore the rock formations, tide pools and native New Zealand bush.
Say a Tearful Goodbye at Checkout: This is the worst part - leaving this enchanting lodge. With a warm hug from Kym, wave goodbye to 970 Lonely Bay, Whitianga's best hidden luxury retreat.
I truly hope you get a chance to visit this little piece of New Zealand paradise, just remember to think of me as you savor a warm, buttery croissant each morning.
FOR EVEN MORE, REMEMBER TO CHECK OUT MY FULL TRAVEL GUIDE TO THE NORTH ISLAND HERE
I had the absolute pleasure of staying at the brand new Crawford Hotel in Denver for the weekend with my husband. The Crawford Hotel is the perfect combination of 1950s luxury, modern elegance and rock star status - creating the perfect ambiance for this boutique hotel. Set inside the iconic Union Station, this hotel is the gem of LoDo (lower downtown), just blocks from Coors Field. Of the hundreds (yes hundreds) of hotels I've stayed in throughout my life, I can honestly say that The Crawford is my hands down favorite for design, vibe and creativity. Here's my Type A review of this magnificent travel destination.
SETTING
The hotel is set inside an active train station terminal, creating a lobby where guests and drifters collide. Gigantic chandlers glow high above the open seating lobby filled with mid-century modern benches, couches, desks and coffee tables as well as as two retro shuffle board tables. Every feature of the decor was carefully thought out to celebrate the history of the station, even using Solari boards to display the details of the many restaurants and shops set inside the hotel - ultimately creating an environment where people can eat, play, meet and mingle. I expected that since the lobby is such public space that there would be a large amount of "undesirables" hanging around, but that was never the case - the place was always clean, safe and lively without feeling crowded.
ROOMS
Each guest room is tastefully decorated to match the vibe of the hotel, with towering ceilings, local artwork and retro furniture. We were on the highest floor in room 426, one of the Premium Classic rooms which is larger than most of the lofts and regular guest rooms and in my opinion is worth the additional cost. It includes a king sized bed, sofa, armoire, and large bathroom with a claw footed bathtub and separate rain shower. The towering windows look out to both the front of the hotel and one side, giving you a perfect vantage point to check out what's going on. This is one of the few rooms that is set on the perimeter of the lobby, providing guests with a perfect view for people watching just steps from their front door. The room also includes an iPad mini for easy access to all of the information you might need for your stay, high speed wifi and nightly turndown service. The mini fridge is stocked with complimentary Voss waters and you are left with delectable chocolate bon bons as an evening treat. The guest rooms also include bathrobes, slippers and the regular hotel amenities such as shampoo and conditioner along with bath salts for a nice long soak (what girl doesn't want to take advantage of a claw footed tub???).
**It's important to note that we did have one issue with our room - it smelled strongly of cigarette smoke, even though it is considered a non-smoking room. We called down to the front desk and had a bit of trouble/confusion trying to get a candle. They did provide us with an ionizer to help filter the air, which unfortunately did not help much either, probably due to the large size of the room and very high ceilings. With that said, they did try to do what they could to make it right, including offering to have us switch rooms, which we chose to decline. It's unfortunate to me that someone would choose to smoke in such a brand new and beautiful room, ruining it for future guests. When issues like this happen, I'm more concerned with the service and attention at which the hotel provides, rather than the issue itself and I would say that the hotel did a decent job of trying to rectify the situation.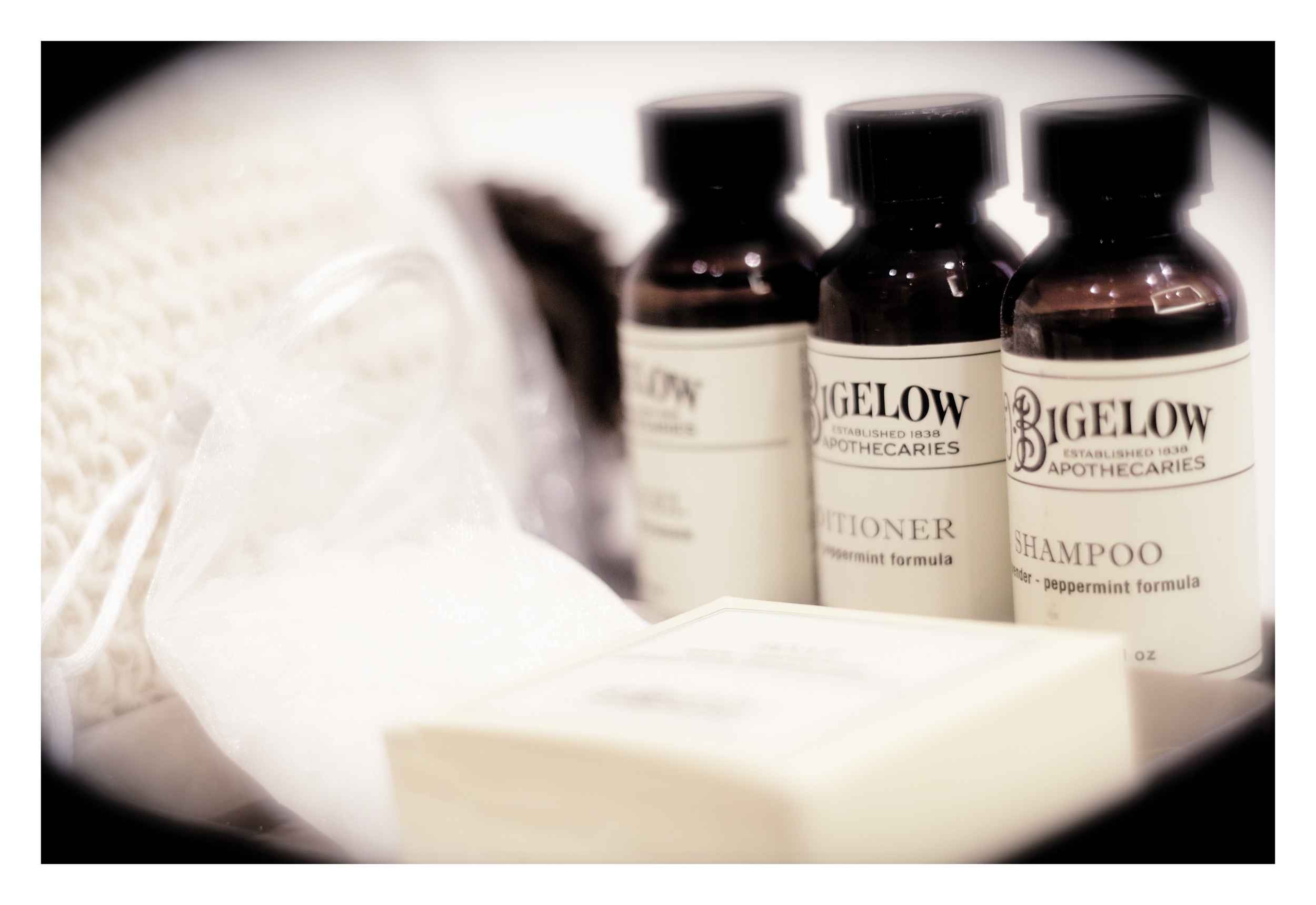 THE COOPER LOUNGE
Set on the second floor of Union Station, overlooking the lobby is the exclusive Cooper Lounge. Only available for guests and outsiders who make a reservation with the front desk, you feel like a celebrity as you sip a classic martini in an oversized wing chair or classy retro sofa. Service is excellent and the drinks are strong, without being overly priced (at least compared to Southern California standards). My husband and I rarely go out for after dinner drinks, but this was an experience not to be missed in this iconic hotel setting.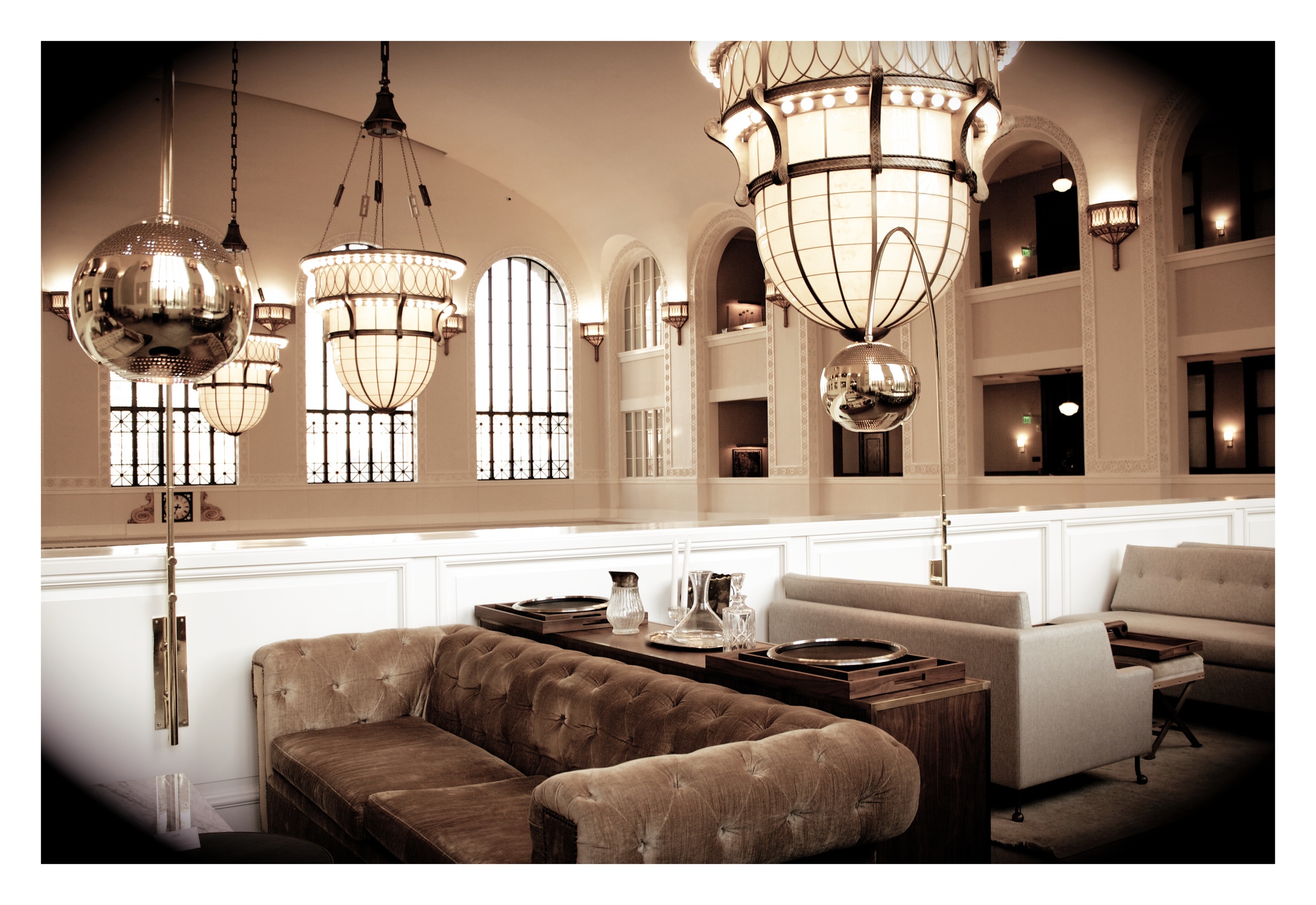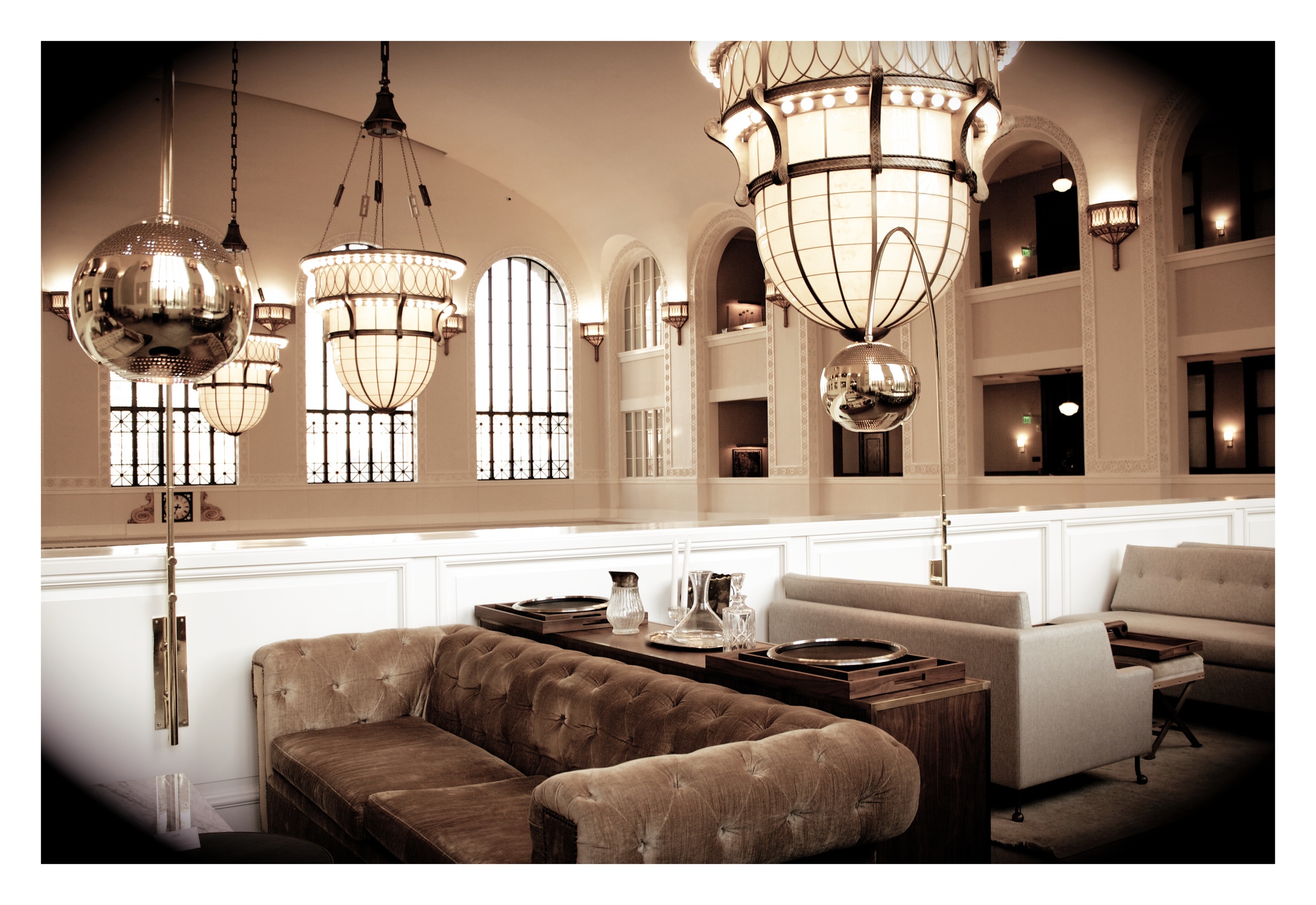 SURROUNDING AREA/GETTING AROUND
The Crawford is in LoDo (lower downtown) and set away from the hustle and bustle of 16th street, but within a short walk to the areas best restaurants and shops. This is an ideal location because you get to skip the masses of people while still being close to everything you might want to do - let's just say it's a classier part of town. From the hotel, you are within a half mile walk of the hottest restaurants in town on Larimer and an easy walk over the bridge to the trendy Highlands area (check back for a recap of our food tour in this part of town). The Free Mall Ride stops just a half block up the street and takes you into the center of town in about 20 minutes and Uber rides only cost about $5 to get within a few miles. Saying that, the best way to cruise around town is in the hotel's complimentary Tesla car service, which will take you anywhere within a 2 mile radius and pick you up whenever you're ready to head back. It's available on a first come, first serve basis, but we never once had a problem. Just call or text a few minutes ahead of time and it'll be there waiting - an epic way to see Denver!
I highly suggest you check out The Crawford Hotel. It's the best hotel I've experienced in a long time and can't wait to visit again and again. This will most definitely be our go-to spot whenever we are in Denver. Cheers!