Took a much needed girlcation with my best friend this summer We were looking for a spot that fit the following criteria:
hot and tropical

somewhere other than Mexico

safe enough for 2 girls to travel alone

all inclusive, with quality food and drinks

affordable enough that our husbands would let us go without them
And with that, we landed on Dreams Palm Beach in Punta Cana, Dominican Republic. For six glorious days we ate, drank, slept, swam, laid out and slept some more. But it wasn't all fun and games, I made sure to take detailed notes so that you have the info you need to have the best Punta Cana vacation possible. Also be sure to check out my post 10 Things to Know Before You Go so you can best prepare for a perfect trip to Punta Cana!
Location - Punta Cana is located on the eastern side of the Dominican Republic, facing both the Atlantic and the Caribbean. It is about a 4 hour flight from the East Coast and 12+ hours coming from the West. Most resorts are a 20-40 minute drive from the airport. Punta Cana is generally only a vacation destination and there is not much else going on other than hotels and tourism focused excursions. You can find a bit of everything to do here, but the beaches are what bring people back for more.
Weather - Punta Cana maintains temperatures between 85-95 degrees year round with very little rain due to the flat landscape. There is a higher chance of rain from June through August because of hurricane season; however, major storms rarely hit the island. Even during rainy season, clouds and rain only show up in small doses and won't hinder your vacation.
Money - US dollars are accepted everywhere; however, the Dominican peso is the local currency which has an exchange rate of roughly 45:1. We brought about $250 in small bills (just go into a bank before you leave the US and get what you need) and it was more than enough to tip and pay for an excursion when we weren't using our credit card. It's best to have cash in most cases, so visit one of the many ATMs in town or at your hotel.
BOOKING/TRAVEL
We booked our trip with Travelocity. The package included a flight from San Francisco and a 6 night all inclusive stay at Dreams Palm Beach Resort and Spa for about $1,550pp. This is not the best deal I've ever found, but it was cheaper than anywhere else I could find at the time.
I've booked vacations with many other companies in the past and I can honestly say that I will never book with Travelocity again. Their customer service was extremely poor and I would have paid extra to go with a company like Apple Vacations who actually cared about customer service. I booked the travel arrangements for my best friend and found out the day before we were leaving that I put the wrong middle name on her ticket (definitely me being an idiot). In order to fix my mistake I had to spend 3 hours on the phone with Travelocity, getting hung up on/disconnected 2 separate times and ended up having to pay $150 to make the change based on Jetblue policy. What a nightmare!
Flight - The flight package was with Jetblue, which I had never flown before but had heard good things about so was looking forward to the experience. Well it wasn't anything special. While there is a bit more leg room, it's just a glorified Southwest. On one leg, we ended up boarding, then sitting on the plane for 45 minute before being told to get off and wait another hour to fix an issue. After all the name change issues, then this, I was pretty much over it. I sent Jetblue an email, so I'll let you know how that goes, if anywhere at all.
Transportation - Be sure to pre-book airport transportation. Similar to many Mexican travel destinations, the airport experience can be stressful if you're not prepared. Once you've grabbed your bags, you are immediately bombarded by men trying to offer you transportation services and working to sign you up for timeshare tours. If you already have transportation set up - go straight out, don't listen to anyone who asks where you're going and find the person with your name on a card. Everyone will try and "help" you, but they are ultimately trying to get you to go with them instead. Taxi's are safe, but you have to swim through shark infested water to find one on the outside (definitely doable). Instead, I suggest booking ahead of time either through your hotel or through a reputable company so that you don't have to deal with the stress of it all. Caribbean Dream is a well known transportation company with great reviews that we booked for a roundtrip transport prior to leaving and here's why I loved it:
I was given the exact cost online prior to booking (the same price as taking a taxi!), $70 roundtrip for 2, but varies depending on your destination.
I was able to pay ahead of time through Paypal so didn't have to exchange money
I received a confirmation email with all of the info
The driver waited for us outside with my name on a sign so I didn't have to deal with anyone else (and were there even though our flight came in 1.5 hours late).
We were helped with our bags, put into a small passenger van with air conditioning and taken directly to our hotel with no issues.
Since I booked a roundtrip package, they picked us up at our hotel at the time I requested and took us to the airport with no problems.
**One final note regarding the airport, don't let anyone random help you with your bags as they will be requiring a tip! Just say no thank you and move on.
DREAMS PALM BEACH RESORT AND SPA
Dreams Palm Beach Resort and Spa is a five star, all inclusive hotel, which is part of the AM Resort chain. There are 3 Dreams resorts in Punta Cana, not to mention Secrets and Breathless which are the adults only options, so be sure to specify which one you are looking for because it can be confusing! The resort is set on a beautiful stretch of beach facing the Caribbean with neighboring resorts settled on both sides. It is an older property, but unlike some of the newer megaresorts in Punta Cana, it's focus is on quality of service and experience. This family friendly hotel is a perfect escape for parents with kids of all ages who are looking for a worry free getaway. It is a relatively small property with limited walking required no matter where you are coming from. I read about many other resorts that required a 10 minute walk from your room to the pool... that just sounds like a major buzz kill if you ask me. Much of the resort is in the process of being upgraded, including putting in a new pool and kids club as well as renovating the rooms for a more modern feel. The decor is simple, tropical elegance and doesn't distract from the natural beauty of the surrounding areas. The grounds are clean, but some areas are in definite need of a facelift. There are tropical flowers growing around every corner, making it that much more beautiful. While it may not have the appeal that the Hard Rock has, this is a favorite for many travelers who come year after year, making it more successful and consistently busier than any other hotel in the area.
ROOMS
Because this is an older hotel, the rooms aren't much to write home about. They are on the smaller side, but have been or are in the process of being renovated. There are very few rooms that face the ocean as the resort is in U shape, opening to the water (even most honeymoon suites don't face the water). With that said, all rooms are a short walk to the beach or pool and there is no real preference for which building you are in. Rooms facing the pool can be slightly louder, but this was never a problem for us. Each building is 3 stories high, so if you would prefer not to walk up and down stairs, I suggest making a request for a bottom floor.
Rooms are cleaned fully once a day with tidy/turn down service each evening where you get a flyer detailing the next day's activities and events. The mini bar is stoked with sodas, waters and beers and surprisingly keeps everything very cold. There is also a flat screen TV and DVD player in the room so you can bring your own movies or check them out for free at the front desk.
Pictures below are of several room types, ranging from the classic, Premier and Honeymoon Suite.
PREFERRED CLUB
As I said, some rooms are considered "Preferred" that cost extra. Below is a list of what that includes and my thoughts on each one. Our room at this resort was not Preferred, but I have stayed at Dreams/Secrets and had the Preferred option. In my opinion, I would not pay the additional cost for this particular hotel, but people who did really enjoyed the extra amenities.
Preferred Club Lounge - Includes a separate bar, couches, televisions, concierge services and computers. It seemed like many guests were using it as it was often busy.
Daily continental breakfast service in the lounge - But there's a buffet and room service... how is this an advantage? Some people like the exclusivity I guess.
Sea Side Grill is open exclusively for Preferred guests for Breakfast and Lunch
Afternoon hot and cold hors d'oeuvres - We just went to the cafe if we wanted a snack.
Exquisite desserts and fine liquors in the lounge
Daily in room newspaper
Private Pool/Jacuzzi & Private Beach Area - The beach area did have nicer seating and umbrellas and would have been nice.
Private Butler Service for those in the Honeymoon Suites - Guests are given a cell phone that connects directly to Alex or Wilson who are incredible at providing excellent service and meeting every need.
Pillow and Linen Spray Menu
Upgraded mini-bar service, including miniature premium alcoholic drinks and snacks - 3 mini bottles a day and Pringles, M&Ms and candy bar. You only get more if you use or remove them from the mini bar area, that's the only way to really get the benefit from it.
Upgraded toiletries
Express Checkout in the Preferred Club Lounge
TIPPING
While tips are considered to be included in the cost of your stay and are absolutely not required, we make it a priority to always bring about 50-100 in $1s to tip those who work extra hard. While the staff at Secrets is paid slightly higher than average, it's still a very low daily rate and the tips do help. Tips are NEVER expected and ALWAYS appreciated, so we feel it's worth it. We tipped a few dollars at meals and to each of the bar servers each day as well as left a few dollars to the housekeeper at the end of the week (about $1 for each day we were there) and it always went a long way. We also ensured to tip each of the activities staff because they work 12 hour days and truly make the trip fun and entertaining.
POOL AREA
There are 3 Pools, plus the private Preferred Club pool. The pool closest to the beach has a swim up bar and is the coldest of the 3. The middle pool has a lazy river feel (without moving water), and weaves around the middle island area and is definitely quieter, but has warmer water. The pool closest to the lobby is considered a kiddie pool as it is very shallow. Pool floaties are allowed, so be sure to buy some at the dollar store and bring them with you as they charge over $20 at the hotel!
There are beach chairs surrounding the pool area; however, it can be very hard to find a spot after 9am. The resort does have plenty of chairs and umbrellas, so just be sure to ask if you cannot find a spot; however, I did find this annoying to have to ask each time. You also need to ask for towels from the booth which is located on the side of the swim up bar. Pool drink service is pretty limited, but you can easily go up to the bar and order something. Tip: if you order a mixed drink like a pina colada, be sure to specify if you want it with alcohol because they automatically make them without since there are so many kids ordering.
BEACH AREA
The beach really is beautiful and where we spent most of our time. There are plenty of beach chairs, but limited shaded areas so if you are fearful of becoming crispy chicken you may want to get there early. The water is consistently luke warm and is fairly clear, making it perfect for floating around (again, bring your own floaties from home). There is a moderate amount of sea "hair", but the staff does a nice job of cleaning it throughout the day. There is also a blow-up climbing rock and water trampoline available for kids only. You can also check out kayaks and hobie cats for free right from the beach. Keep in mind that there are resorts on both sides of the hotel so non guests will be walking back and forth on the beach, making it a less secluded area than pictures might elude to.
When finding a spot on the beach, I preferred the second row because I was able to easily avoid beach vendors. Yes, there are beach vendors who try to sell you everything from puka shells to braids, but they are extremely respectful and a firm "no thank you" usually keeps them from bothering you for very long. The hotel security also does a very nice job of ushering them along and hovering over in case they see you feeling pressured, which was a nice surprise.
There is drink service on the beach, but it is extremely slow with only 2-3 servers covering the entire beach area. On average, we waited about 30 minutes to receive a drink and usually had to track someone down to put in an order, but I had nothing else to do so I wasn't all that bothered by it.
FOOD AND DRINKS
There are 6 restaurants, 1 coffee lounge, 1 buffet, 24hr room service and 5 bars onsite. Each of the bars offers premium drinks and are open at various times throughout the day. All of the restaurants are beautifully decorated and provide excellent service. I suggest making reservations for the nicer options such as the French or Steakhouse restaurant since wait times can get long - we waited over an hour one night at the Steakhouse, but that saws the only time we waited for more than a few minutes.
Overall the food was very good for a resort. I don't try to compare it to any 5 Star or James Beard restaurants in the states, you have to know that's just not realistic. However, compared to other all inclusive resorts we've been to, we considered this to be a 3.7/5 for the quality of food, presentation, ambiance and service. There are an impressive amount of gluten free and vegetarian options, so there's easily something for everyone (confirmed by an actual vegetarian we met while there). I won't list out every option here, but you can check out the Dreams Palm Beach website or check out my full guide to Secrets Huatulco which explains the restaurants in full detail. However, here are a few highlights that are worth mentioning:
The World Cafe, Buffet - This was one of the best buffet options I've seen at an all inclusive resort. There are numerous stations for everything from ice-cream and omelets to make your own pizza and pasta. Breakfast includes a do-it- yourself mimosa and cocktail bar and a wide variety of fresh tropical fruits. One of my favorite options was the full service cart that came around to each table, serving a new dish each day - bananas foster, alfredo & cheese gnocchi, steamed tamales, you name it! On the hottest of days, waiters even came around with ice-cold towels for a quick cool down before your meal. Overall, a wonderful and low key option for any time of day.
El Patio, Mexican Restaurant - This was where the best desserts were - be sure to try the tres leeches and the rice pudding... oh my yum!
SPA
The spa is a small, but nicely appointed facility with hydrotherapy pools and serene therapy rooms. There are usually daily discounts available, up to 30% off or you can use the resort coupons, but they can't be combined. Instead, we decided to go with the spa package deal, which included seven 50 minute treatments that could be divided by as many as 7 people and used throughout your entire stay. I've got to say, this was one of the best spa deals I've experienced and was worth every penny. Over 4 days, I received 2 massages, a facial and a body wrap, while my best friend got 2 massages and a facial - basically a treatment or two a day. Please note that if you do a body wrap that it's a pretty "open" process, so if you are not comfortable with being nude around your therapist, you may want to skip it. There are also options for beach massages; however it's not very private or romantic so I would suggest avoiding this completely. Also remember to tip appropriately - 15-20%.
ACTIVITIES AND ENTERTAINMENT
From 6am to about 11pm each night there is something going on. There's definitely options for everyone - from tennis and volleyball to Spanish and dancing lessons, outdoor movies and even tequila and cooking workshops. The staff loves when people get involved and they do a wonderful job of getting you to participate without being pushy. Each evening there was a new show or main event; however, by 9pm we were usually too full and tired to go see what was going on so I'm not much help in that area; however, I heard from others that they were also pretty good, but not amazing. Shows vary from theater, dance performances, games and karaoke.
On a side note - the souvenir store has very reasonably priced gifts like rum, postcards, coffee, vanilla and other trinkets. I was actually shocked to see just how cheap it was as I'm used to seeing prices doubled at resorts. Since there aren't really any stores nearby, this is a very reasonable option.
KIDS CLUB
There is a fabulous kids program available so parents can drop their kids off and they will be entertained and closely watched for as long as you want. They even go as far as providing each parent and child a cell phone so they can contact each other at any point throughout the day. There is also a program for teenagers where they can hang out and relax without having to be with the parents all day.
EXCURSIONS
There are plenty of excursions available in Punta Cana and through the hotel including fishing, biking, horse back riding, ecotours, jet skiing, boat rentals, etc. We chose not to do any through the hotel and booked one online before arriving because I prefer to do adequate research and see reviews for whatever I'm paying for (for some reason I don't just trust the sales guys in the lobby, go figure) and we had a friend go Parasailing off of the beach, which I believe cost $60 for about 15 minutes of air time.
My friend and I booked a semi-private catamaran tour with Hispaniola Aquatic Adventure. While the website might be a little cheesy, they are number 1 on TripAdvisor and their ratings are consistently amazing - out of 173 reviews, 171 are five stars and two are 4 stars - which is an insane rating. Other than forgetting to pick us up from our hotel (which they quickly rectified once we called by paying for a direct cab ride to the dock), we had an outstanding time. For only $99 per person, you set sale with only 8-10 other people for a day on the ocean. Most other boat tours are packed with 30-50 people, with barely room to stand so this is a dream for the price. The staff is fun and professional, the boat is steady (no need to worry about sea sickness) and clean and there is an unlimited amount of waters and alcoholic beverages served. You make 3 stops - snorkeling (which is sub par), on shore for a coco loco with the coconut man who serves you a drink in a coconut which he chops open with a machete (amazing!), and a stop in the wading pools, which is a shallow area in the middle of the ocean. The crew also serves a fabulous grilled seafood lunch with unlimited lobster - oh so good! I highly suggest this tour for the cost, value and experience.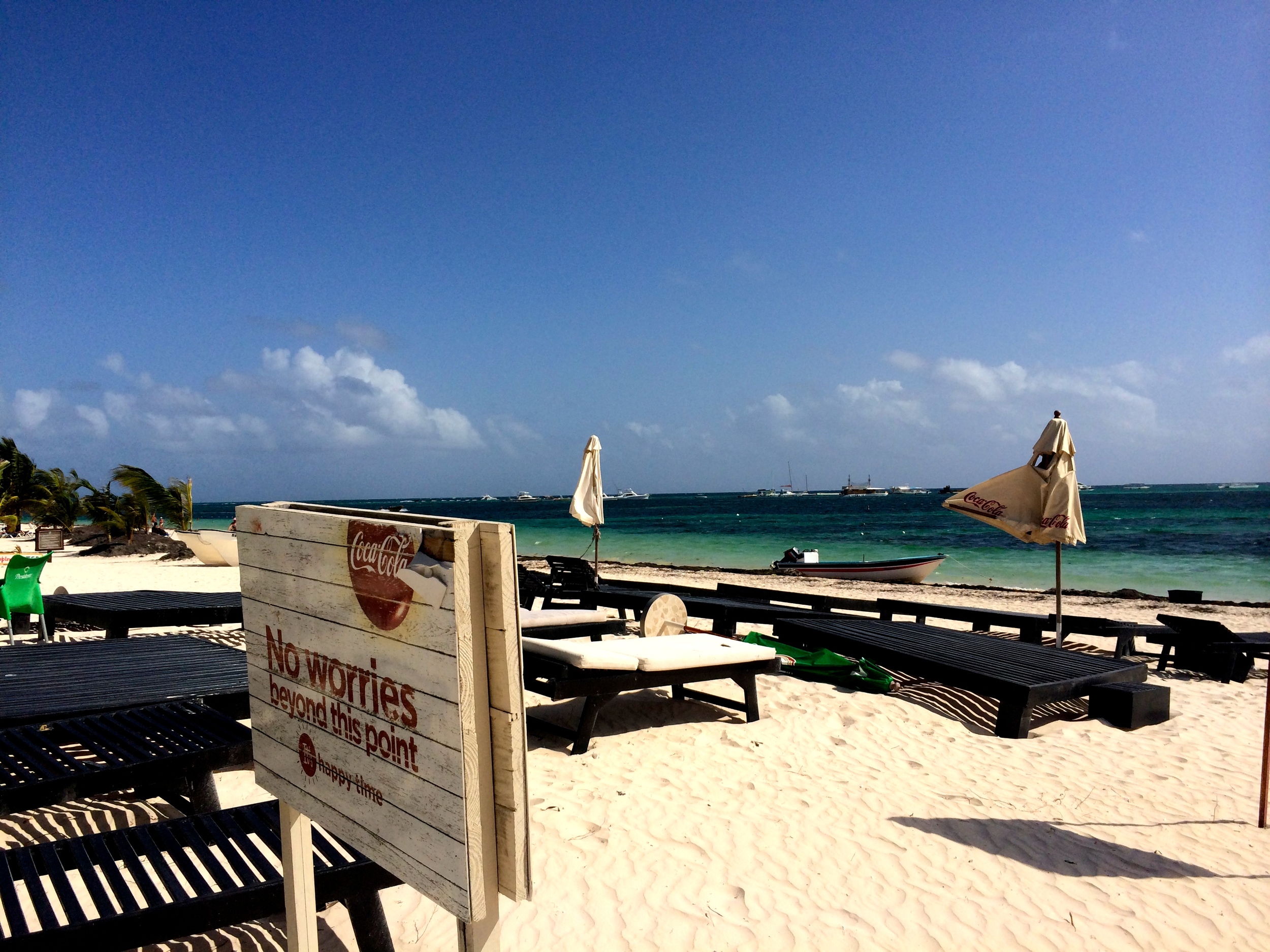 PACKING ESSENTIALS
These are items you should definitely bring along when visiting Huatulco/Secrets, not a full list. Do be sure to pack liquids in your check in bag as we met numerous people who put them in their carry on and had them taken away at the airport (I'm sorry, but duh), then had to pay $20 for SPF 30.
Conditioner (not provided)
Toothpaste (toothbrushes are provided, but not the paste)
Sunscreen
Bug Spray (although there are very few bugs)
Aloe/Sunburn Cream
Anti-Itch Meds
Tums or Pepto*
Advil (to aid in hangovers and sunburns)
Dramamine if you plan on going out on a boat or snorkeling
Swimmer's Ear Drops
Nice Clothes for Dinners

Dress Shoes
Dress Pants for men
Collared Shirt for men
Pants or Dresses for women (non shorts)

Water Shoes (optional)
Snorkel Gear (optional, you can rent if you like sharing germs with strangers)
Walkie Talkies (optional, if you are traveling with a group these help to stay in contact while at the hotel since cell phones aren't an option)