GROWING UP IN SILICON VALLEY, SAN FRANCISCO WAS JUST AN HOUR AWAY, BUT IT WASN'T UNTIL I MOVED TO THE OTHER SIDE OF THE STATE THAT I ACTUALLY BEGAN TO APPRECIATE IT FOR THE AMAZING CITY IT IS. HOME OF THE CABLE CAR, THE BEST SPORTS TEAMS ON THE PLANET AND ROLLER COASTER LIKE HILLS - IT'S A VACATION LOCATION THAT WILL LEAVE YOU WANTING MORE... MORE TIME, MORE MONEY, MORE SLEEP AND INEVITABLY MORE CLAM CHOWDER.
Here's my recommendations for what to do, how to do it and when to skip it based on hours of research and tips from some local experts (all in order from highest to lowest priority).
FOODIE-licious FAVORITES
Cheap Eats and Small Bites
Moderate to High Priced Splurges
PLOW - Found in the quiet, chic neighborhood of Potrero Hill, this petite corner restaurant serves simple, delicious farm to table foods where local ingredients and goods are highlighted. While the menu is constantly changing to promote seasonal ingredients, the banana french toast was perfectly cooked and the egg sandwich was an incredible convergence of flavor inside a soft and buttery bun. We even bought a bottle of their hot sauce to take home which is made locally.

BRENDA'S MEAT & THREE - This is a new addition to the list, but a must go. This home of southern comfort food creates hands down my favorite chicken sandwich I've ever had. Big Mama's Spicy Chicken Sandwich is a secret recipe packed with southern heat and cooked to juicy perfection. I loved it so much I went two days in a row. But if that doesn't get you excited, they serve a fantastic brunch menu along with a dinner of traditional meats and fixins. This is another one of my must stop spots whenever I'm in town.

NOPA - On a main street in the North Panhandle (hence NoPa), this restaurant is well known for their urban rustic food and community vibe. Portions are small with moderate prices, but they focus on simple flavors using local ingredients. It wasn't my favorite meal of the trip, but don't take my word for it - just ask the dozens of people who wait 2+ hours for a seat at brunch! My advice, get a reservation well in advance.
ZAZIE - An adorable french bistro in the heart of Cole Valley, this place serves excellent home cooking with service to match. This is a well known neighborhood spot where locals sip coffee and share a meal in the beautiful back garden patio. Their brunch menu is packed with delicious breakfast favorites with a French twist - but if you can't choose just one try their Griddle Flight featuring 1 buttermilk pancake, 1 gingerbread pancake and a slice of french toast for $15.

TATAKI SUSHI - This sushi spot promotes sustainable eating at its finest. Introducing delicious, but unlikely options on the menu like arctic char, scallops and black cod, you leave with an expanded pallet and a respect for the sea. The restaurant is small, so be prepared to wait during prime times as it's become a favorite among locals.
Unique Experiences Not to be Missed
MICHAEL MINA - This place puts the bling in your belly. Want high end food at designer prices? This is the spot. And when you need to justify the price to your judgy friends, you can talk about the famous chef to make you feel slightly better. We took part in the 9 Course Ketto Menu. Ketto means dueling in Japanese, so each course was prepared 2 ways and each person received 1 of the 2 preparations. This is definitely a special occasion kind of place, unless you've just got bags of money laying around and if that's the case throw some my way. To give you a price point - for 4 people sharing a moderately priced bottle of wine and each person ordering the Ketto menu, the bill was just about a grand, pre tip. So yeah, with that said it's a pretty fab experience. Each course is beautifully presented with the highest quality ingredients, coupled with kind and attentive service.
INTERESTING ATTRACTIONS & TO DOs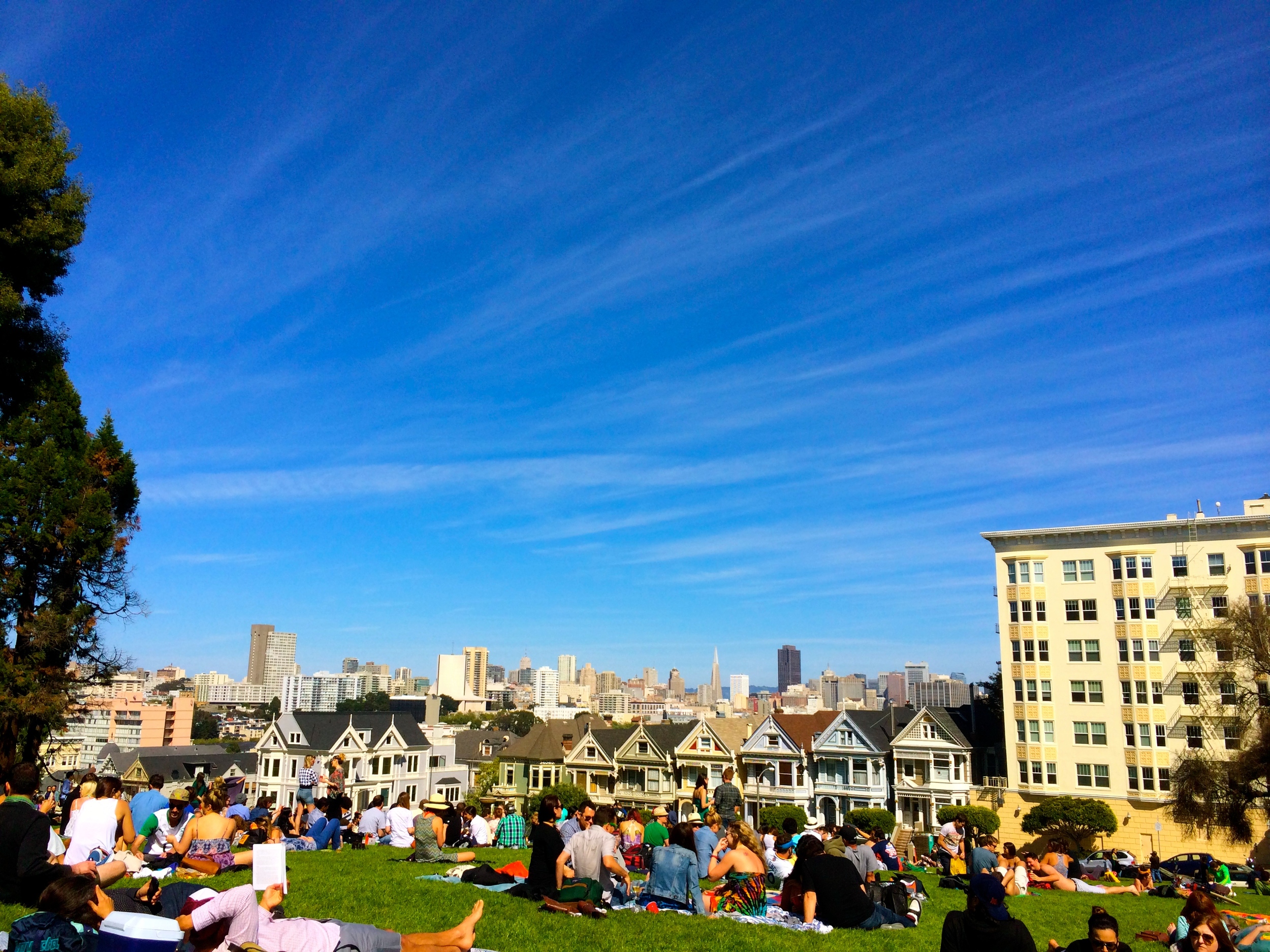 FERRY BUILDING MARKET - An excellent spot to grab a quick bite, buy ingredients for the night's dinner or just to people watch. If you're around on a Saturday check out the weekly farmers market just outside the building.

GOLDEN GATE BRIDGE - A no brainer, but here's a link to the best lookout points.

DAVID'S TEA - Yes, I know this is a chain, but there aren't many places in California that honor the art of tea... and they make a yummy ice tea latte, which gets me every time. They also have an extensive variety of teas to buy available by the ounce.

CHINATOWN - Arguably the best Chinatown you'll find and touted as the largest outside of Asia. It's well worth spending a few hours weaving in and out of the mazes of trinket shops and storefront after storefront of $2 t-shirts. You'll inevitably pass by Chinese grandpas squatting on the sidewalks while smoking and glass cases of dumplings and pastries that look amazing, but you have absolutely no clue what they're called. All genuine experiences in this iconic San Francisco spot.

PAINTED LADIES/ALAMO SQUARE PARK - As a child of the 90s, Full House is a staple in my life and "everywhere you look" from Alamo Square Park is the iconic view of the home we expect Danny Tanner to walk out of in his perfectly pressed sweater vest. The park is actually a gathering spot for loungers and hipsters to soak in the rare afternoon sun. Bring a beer, a bong or a hool-a-hoop and you'll fit right in! (I do not condone the use of any of these items).

FUN NEIGHBORHOODS: